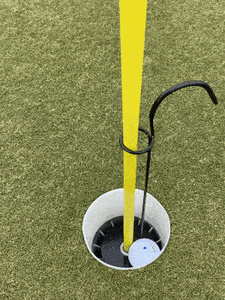 The Falcon Golf™ T2 is our ball retriever designed specifically for tapered, tournament style pins. The T2 is a ball scoop that attaches existing flag poles, allowing your players to easily pull the ball out of the cup using their putters. The flagstick and flag are not included.
Product Description
Unlike the X1, the Falcon Golf T2 pin attachment works on both tapered and standard golf pins
It is made of 100% stainless steel - will NEVER rust.  
The T2 is easily mountable to existing flag poles in 30 seconds. 
The entire cup is designed, manufactured and shipped in the USA 🇺🇸
This product contains a single Falcon Golf T2 pin attachments- perfect for small clubs or practice greens.
Easy Installation
The Falcon T2 is easy to install - simply unscrew the top of the flag stick and slide the T2 down the pole.

The T2 fits on all style of pins - regular or tournament style (tapered) flagsticks only.
Return/Damage Policy
Each order comes with a standard 30-day money back guarantee. Additionally, if any of your products are damaged or broken within 90 days, we will ship out a replacement free of charge. 
Shipping Times
The Falcon T2 is usually shipped in 1-2 business days. You will be notified when the ship via a UPS Ground tracking order. 
Falcon golf is a registered trademark and the T2 product is patent pending as of 2019.